Welcome to Doctor of Arts Seminar at Media Lab Thursday 2 March 2017:
Jussi Parikka:
Inventing Pasts and Futures:
Speculative Design and Media Archaeology
Abstract: This talk will expand some themes in media archaeology in relation to speculative design. In short, the talk will elaborate how the temporal horizon of speculative design can also be worked through historical materials and past themes, bringing the two fields in proximity. Besides some theoretical points, the talk will elaborate on situated practices such as the Maker Lab in the Humanities (at University of Victoria, Canada) as well as recent projects such as the Media Archaeology of Ingenious Devices which we (myself together with Ayhan Aytes) set up at the Istanbul Design Biennial past Autumn. The project expanded on media archaeologies of Middle East automata into versions of "what if" history as well as geopolitically alternative questions about speculation.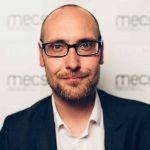 Biography: Dr Jussi Parikka is Professor at the Winchester School of Art (University of Southampton) and Docent at University of Turku. His various books have addressed a wide range of topics relevant to a critical understanding of network culture, aesthetics and media archaeology of contemporary technologies. The books include the media ecology-trilogy Digital Contagions (2007, 2nd. ed 2016), the award-winning Insect Media (2010) and most recently, A Geology of Media (2015), which addresses the environmental contexts of technical media culture.
In addition, Parikka has published such books as What is Media Archaeology (2012) and edited various books, recently Writing and Unwriting (Media) Art History (2015, with Joasia Krysa) on the Finnish media art pioneer Erkki Kurenniemi. He is also the co-editor of Across and Beyond: – A transmediale Reader on Post-digital Practices, Concepts, and Institutions (Sternberg Press, 2016, co-edited with Ryan Bishop, Kristoffer Gansing and Elvia Wilk).
Parikka's website/blog: http://jussiparikka.net
Find him on Twitter as: @juspar
DOM-L0003 Doctor of Arts at Media Lab Seminar
Responsible teacher: Prof. Lily Díaz-Kommonen
TIME: Thursday 2 March 2017, from 17:00 – 19:00
LOCATION: Miestentie 3 (Otaniemi), 4th floor, room 426.