WELCOME TO THE FIRST NEW MEDIA DOCTORAL SEMINAR OF 2022!
We kindly welcome you to attend the first New Media Doctoral Seminar of the Spring semester! The seminar will take place in Zoom today starting at 16:30 and ending at 18:30 (UTC/GMT+2, Helsinki, EEST). Neha Sayed will be presenting her work 'The changing meaning of an urban place'. The seminar is mediated by Professor Lily Díaz-Kommonen.
PRESENTATION
'The changing meaning of an urban place.'
by Neha Sayed
ABSTRACT
The meaning of an urban place for a traditional trading community on Ṭapāl Nākā develops in response to the development policies enforced by the government's planning department. The government policies are enforced through artefacts such as maps and reports. The analysis of these artefacts reveals their purpose to control the development. Their operational role also assigns a certain meaning to the place. These policies are adapted to by the community as a post-implementation response. Their concerns are expressed through mobilising trade networks to emphasise the trade practices and property ownership patterns. The ethnographic data of networks and space analysed using the collective cultural memory framework of Assmann (1995) reveals the meaning of Ṭapāl Nākā generated by the community. The government is now implementing smart technologies to enforce their regulatory control, strengthening their meaning of Ṭapāl Nākā. The community is already well versed with technologies such as surveillance cameras connected to smart phones. The IoT technology can reinforce the voice of the community addressing their concerns related to development. This is shown by an exemplary design concept for traffic management to be implemented by the community. This design concept which improvises the way the community already manages traffic indicates the possibility of enhancing the community's meaning of place.
The research contribution lies in presenting an approach to study the meaning of place for design intervention and exploring the role IoT technology may play in the changing meaning of place. It also contributes to the IoT paradigm by indicating a pro-community approach for technological development. The research contributes to the urban planning discipline by revealing the disparity in the meaning of a place. More immediately, the project contributes to new media research by indicating the role of media studies in the developing understanding of IoT.
BIO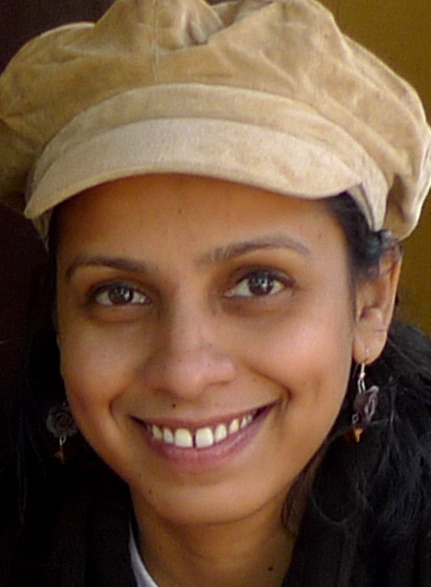 New Media DA candidate, Neha Sayed
Neha Sayed is basically an architect from Mumbai. She has done her MFA in Experience Design from Konstfack, Sweden. Before pursuing her PhD at the Department of Media, she has a done a combination of architectural practice, teaching and design research.
She started her tenure as a doctoral student in January 2016. Part of 'Systems of Representations Research Group', she is advised and supervised by Professor Lily Diaz-Kommonen. Her research is focused on assessing impact of sensor driven technologies on urban precincts. As part of her doctoral research, she conducted her fieldwork in a traditional port town on the west coast of India by adopting a multidisciplinary approach.
WELCOME TO THE LAST JOINT DOCTORAL SEMINAR OF 2021!
The last joint seminar for this year will take place on Thursday, 16 December, and will be held virtually on Zoom starting from 15:15 (UTC/GMT+3, Helsinki. Please see link below).
Mediated by Professor Masood Masoodian, we have a very interesting presentations by New Media DA candidate Dr. Eunice Sari.
Zoom link: Click here to join the seminar!
PRESENTATION
'Toward Digital Transformation in Education in Indonesia'
by Dr. Eunice Sari
ABSTRACT
When the Covid-19 pandemic struck the world, most schools could not operate like normal and a lot of stakeholders were deeply affected including students, teachers, parents, and governments. The emergency mode has pushed every stakeholder to go beyond their comfort zone, to ensure appropriate education can still run and we do not rob the students' rights for education. This talk will highlight several insights gained toward digital transformation in education in Indonesia from three personal case studies (2020-2021). These insights will be discussed also in light of the works done by the author in a similar area in the past.
BIO
Eunice Sari is a UX Design Researcher with more than 18 years of experience serving corporate clients around the world. She is also the CEO and Co-Founder of UX Indonesia and Customer Insight Pty Ltd (Australia), leading service design projects and initiatives in empowering digital transformation for global organizations. As a Designer and Researcher, she loves working in the field, building empathy with people she designs for.
WELCOME TO THE FIRST JOINT DOCTORAL SEMINAR OF THE AUTUMN!
This first joint seminar for this academic year will take place on Thursday, 21 October, and will be held virtually on Zoom starting from 15:15 (UTC/GMT+3, Helsinki. Please see link below).
Mediated by Professor Masood Masoodian, we will be starting strong with two very interesting presentations by VCD DA candidates Nicola Cerioli and Dohee Lee.
Zoom link: Click here to join the seminar!
PRESENTATIONS
'Understanding complexity to improve the visualisation of complex datasets'
by Nicola Cerioli
ABSTRACT
In the context of information design, the term "complexity" is often used without a clear definition. This implies a lost opportunity to frame the design problem and structure the design process in a way that is conscious of complexity. My research aims at building a coherent design framework to work with complex datasets in the domain of information design and data visualization. Firstly, a definition of complexity is proposed; drawing from the work of Murray Gell-Mann, and hybridizing his definition with semiotic theory. This will open up different design possibilities on three different, although interconnected, levels: the nature of the represented data, the interface, and the mental model of the user. By adopting this new perspective, several tools and paradigms from philosophy, cognitive psychology, mathematics, and computer science will become available as support to the design process. The object of this research is to explore the different possibilities that a comprehensive understanding of complexity can bring to the information design and the data visualization design process.
BIO
Nicola Cerioli is a doctoral candidate in the Aalto Visual Communication Design group. He is interested in the visualization of complex data, to further the understanding of multifaceted phenomena. For this purpose, he studies the synergies of design methodologies, mathematical methods, and philosophical frameworks.He is collaborating as a project researcher in the FINNGEN project, exploring new methods to visualise molecular biology and health care data.
/ / / / / / / / / / / / / / / / / / / / / / / / / / / / / / / / / / / / / / / / / / / / / / / / / / / / / / / / / / / / / / / / / / / / / / /
"A systematic co-creative approach to evaluating arts and health interventions for creative well-being of older adults"
by Dohee Lee
ABSTRACT
Although older adults' engagements in arts and design-based interventions have shown positive outcomes in terms of their health and well-being, evaluations of such interventions have rarely taken into account various elements that they consider important in contributing to their creative well-being and quality of life. We will present a narrative interview-based study we have conducted in Korea and Finland with multiple stakeholders, investigating ageing-friendly co-creative approaches to evaluation of arts and design-based interventions for health and well-being. By considering a range of factors – such as artistic and aesthetic values, ethical concerns, and evaluation measures – we propose an evaluation framework that would enable multiple stakeholders – including older adult participants, arts and health practitioners and facilitators, and arts organizations and agencies – to monitor, support and inspire each other systematically through better partnerships in resolving transdisciplinary challenges in such interventions. In particular, we focus on the potential of late-life creativity in supporting older adults in becoming more active participants in such processes, by utilising the knowledge they have accumulated through their own ageing. The aim of the framework is to take a cyclic approach to fostering collaborative co-creative relationships that seek alternative solutions, while dealing with the complexity of implementing arts and design-based interventions.
BIO
Dohee Lee is a doctoral candidate in the Aalto Visual Communication Design group. She has a MA in Material Futures with international working experiences in different communities in collective forms. She believes in the combination of design narratives and social aspects that she has been doing qualitative social design research and project coordination in various geographical, ecological, cultural, and social contexts. Her research aims at developing design strategies for social integration and social well-being of older adults through arts & design practices.