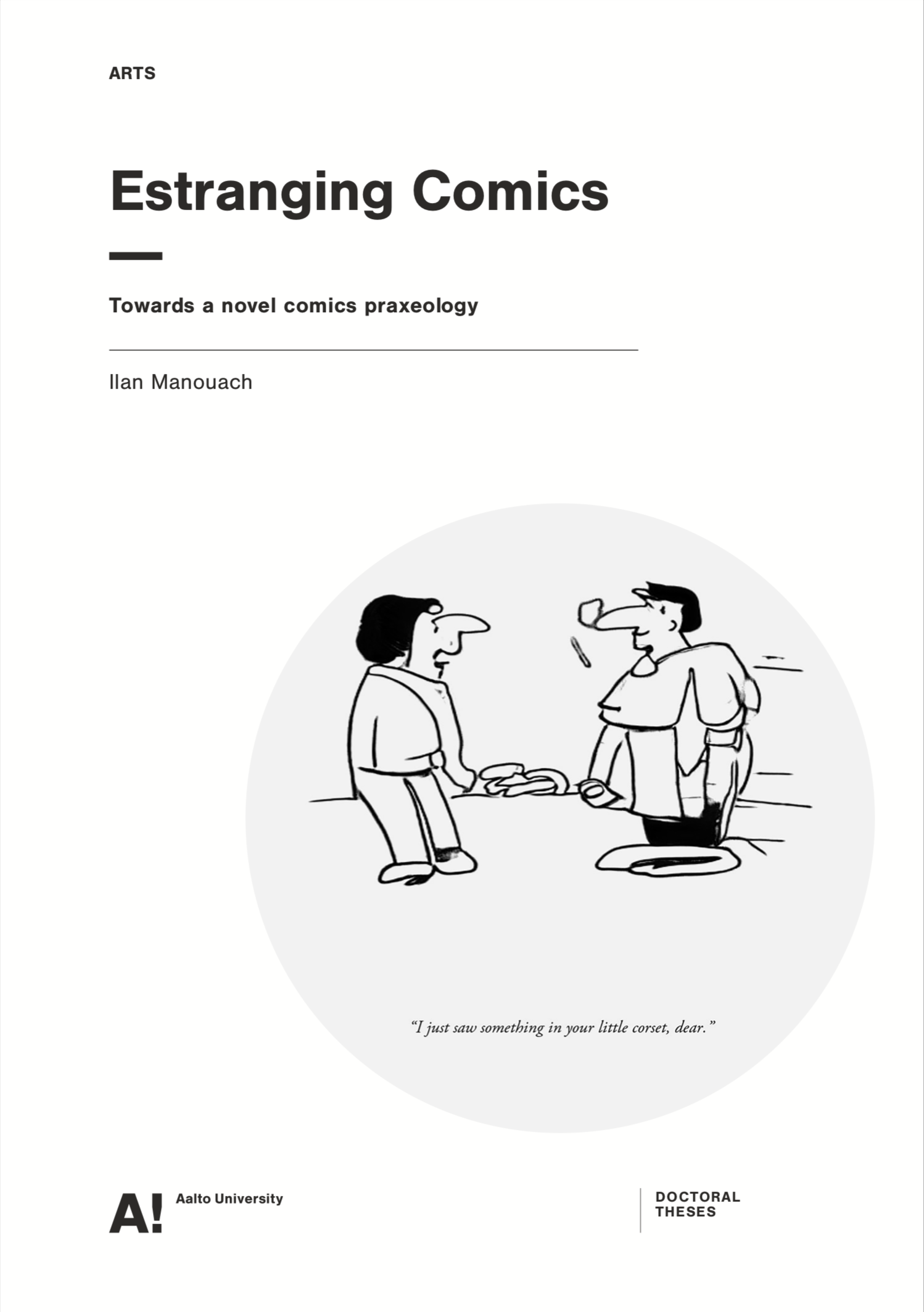 MA Ilan Manouach will defend the thesis 'Estranging Comics – Towards a novel comics praxeology' on 22 April at 12:00 in Aalto University School of Arts, Design and Architecture, Department of Art and Media.
The defense is organized as a hybrid event and will be held both live at Väre, lecture hall F101 (Otaniementie 14, Espoo) and in Zoom (please click here for link).
Doctoral Candidate: MA Ilan Manouach
Opponent: Dr. Jan Baetens, KU Leuven, Belgium
Custos: Dr. Bassam El Baroni, Assistant Professor in Curating and Mediating Art at the School of Arts, Design and Architecture, Aalto University.
Information at Aalto University web page: English │Finnish
The doctoral thesis is available and publicly displayed 10 days before the event here.

ABSTRACT
The industry-wide adoption of digital and network technologies has produced long-lasting and unevenly distributed effects in all the sectors of the comics industry. The globalization of markets and services has profoundly reshaped comics labor. Its effects are economic (the precarization of craftsmanship traditions), social (the rise of entrepreneurial fan culture and the consolidation of increasingly diversified communities with novel forms of amateur and semi-professional activity), technical (the introduction of digital tools for the distribution, the archival and retrieval of media artefacts) and aesthetic (the gradual integration in the production pipeline of AI and synthetic media). As is demonstrated by the recent emergence of radical forms of experimentation documented in the Conceptual Comics media collections of Ubuweb and Monoskop, comic artists are often able to leverage the dependencies of the ever-growing network infrastructure of the comics industry. Nevertheless, these disruptions foreground an epistemic crisis in the understanding of contemporary comics, both in academia and in more traditionally established professional spheres.
This thesis embraces an attitude of productive estrangement towards the medium's forms, material qualities and operations, and constructs comics as a "contemporary object". According to philosopher Anne-Françoise Schmid, a contemporary object is an extra-disciplinary entity that is massively distributed in space and time. Understanding such an object depends on the increasingly aggregate nature of knowledge production and dissemination in the computational age. Both in theory, with a series of papers in peer-review journals, and in artistic practice, by way of published comics and commissioned curatorial projects, this thesis examines the mutations of the comics ecology as an expansion of the scope of knowledge. It embraces the cumulative impact of digital transformation and articulates a novel comics praxeology predicated on two conditions. First, the thesis appeals for a systematic exploration of comics outside of narrow media purviews, the implicitly disciplinary conceptions, and the dominant historical perspectives in Comics Studies. It aims to develop a conception that embraces a rigorous application of a non-hegemonic interdisciplinarity in comics research. Second, and most importantly, the thesis argues for the expansion of operational agency on the part of comics professionals. This agency is described as a heightened contextual appreciation of the industry's infrastructural backend, an awareness of its imbricated institutions and a diversification of the professional toolbox. I argue that a novel comics praxeology is a necessary attribute in order to embrace future, speculative, unclaimed or hitherto impossible forms in comics expression.
THE DOCTORAL CANDIDATE
Ilan Manouach is a researcher, a musician and a multidisciplinary artist with a specific interest in conceptual and post-digital comics. His research examines how this century's frontier technologies such as AI, financial technologies and globalized logistics reshape the comics industry. He is mostly known for Shapereader, a system for tactile storytelling specifically designed for blind and partially sighted readers/makers of comics. He is the founder of Echo Chamber, a Brussels-based non-profit organization with the mission to produce, fundraise, document and archive radical and speculative artistic practices in contemporary comics. The topics of his research and artistic practice include conceptual comics, post-internet publishing, and synthetic media and AI. On the side, Ilan works as a pirate/librarian for the Conceptual Comics Collections at Ubuweb and Monoskop, is an appointed expert in experimental comics for the Belgian government for its national public funding program (CCAP) and works as a strategy consultant for the Onassis Foundation and its visibility through its newly funded publishing activity.
Contact information: email / +30694169008