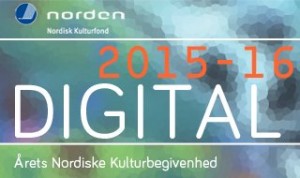 1. GENERAL INFORMATION ABOUT THE NORDIC CULTURE FUND
The aim of the Nordic Culture Fund is to promote cultural co-operation between the Nordic countries, by awarding grants to Nordic co-operation projects in art and culture or to projects where Nordic arts and culture is the theme. Each year, the Fund awards grants totalling approximately DKK 28 million.
The Nordic Culture Fund is an independent body that is led by a board. Half the board members are appointed by the Nordic Council and the other half by the Nordic Council of Ministers. The funding is provided by the Nordic governments.
2. NORDIC CULTURE EVENT OF THE YEAR – DIGITAL 2015/2016
2.1 Background and theme
The Nordic Culture Event of the Year is an extraordinary initiative of the Fund. Every other year, the Fund awards DKK 3 million to one Nordic co-operation project within a theme that is current and important for the Fund. The award will promote greater Nordic co-operation within the chosen theme and will increase awareness of and interest in Nordic cultural co-operation.
In 2015-2016, the Fund is placing the focus on digital arts and culture. This is defined as arts and culture that is created and produced, and that can interact and be disseminated, using new technology and digital media. With this initiative, the Fund hopes to provide a boost to the players that focus on creating new arts and new expressions based on new technology and media, and to stimulate the arena where arts and technology can collaborate. The Nordic Culture Fund has decided to earmark DKK 3 million for the Nordic Culture Event of the Year – DIGITAL 2015/16.
The guidelines in English:
riktlinjer_aand_uk_final
The guidelines in Finnish:
riktlinjer_aand_fi_final
The guidelines in Swedish:
riktlinjer_aand_se_final
More information here:
http://www.nordiskkulturfond.org/en/digital