The third international photography research conference Helsinki Photomedia themed Photographic Agencies and Materialities is happening 30.3.-1.4.2016 in Aalto Arabia campus, Hämeentie 135 C. In addition to over a hundred presentations and discussions, we are proud to present three very exiting key notes by Prof. Geoffrey Batchen (NZ), artist Annika von Hausswolff (SE) and Prof. Liz Wells (UK).
Key notes are open to anyone, warmest welcome!
Wed 30.3, Sampo auditorium 13.15-14.15
Geoffrey Batchen: In Absentia – Material and Politics in Cameraless Photography  
"How can a photograph of nothing—of nothing discernable or apparently significant—be said to offer some useful political purchase on the world it inhabits? How can a photograph that represents, but does not depict, a given situation be freighted with historical knowledge and import? Confining itself to examples of cameraless photography, from the 1830s to now, my presentation will ask these questions with a view to determining a politics for such photographs in the present. In fact, given our contemporary digital context, cameraless photographs assume that photography is always already a politics; to engage the visual and chemical materiality of the photograph is to dispute and challenge that fixity of that politics. Apart from anything else, to make such photographs returns photography to a unique, hand-made craft and away from global capitalism and its vast economies of mass exploitation. Not that these photographs are innocent; on the contrary they are often generated by actions that are toxic, radioactive, enigmatic, violent, dangerous. Nor are they "abstract." Instead, I will argue, they redefine both the nature of photography's realism and its potential as a political agent."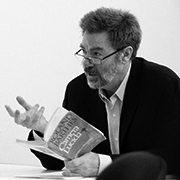 Professor Geoffrey Batchen teaches art history at Victoria University of Wellington in New Zealand, specializing in the history of photography. His books include Burning with Desire: The Conception of Photography (1997), Each Wild Idea: Writing, Photography, History (2001), Forget Me Not: Photography and Remembrance (2004), William Henry Fox Talbot (2008), What of Shoes? Van Gogh and Art History (2009), Suspending Time: Life, Photography, Death (2010) and More Wild Ideas (forthcoming in Chinese, 2015). He has also edited Photography Degree Zero: Reflections on Roland Barthes's Camera Lucida (2009) and co-edited Picturing Atrocity: Photography in Crisis (2012). In April 2016, his exhibition, Emanations: The Art of the Cameraless Photograph, will open at the Govett-Brewster Art Gallery in New Plymouth, New Zealand. A book with the same title will be published by Prestel.
Thu 31.3, Sampo auditorium  15.45 – 17.00 
Liz Wells: Image as Agent – place, materiality and the photographic
The relation between what we see and what we know is never settled.
John Berger, 1972
"As agents of what once was, photographic images have a complex and fluid relation to sites and histories. Yet, whether documentary in mode, romantic, abstract or critically realist, pictures influence our sense of place.
Focussing on land-based practices, this presentation re-visits questions of meaning and interpretation as related to images, places, memory, materiality and environmental mutability."
Liz Wells writes and lectures on photographic practices. She edited Photography: A Critical Introduction (2015 5th ed.) and The Photography Reader (2003, new edition due 2017); she is also co-editor for photographies, Routledge journals. Publications on landscape include Land Matters, Landscape Photography, Culture and Identity (2011).
Recent exhibitions as curator include: Light Touch, Baltimore Washington International Airport (February 12th – June 21st 2014); Futureland Now – John Kippin, Chris Wainwright (Laing Gallery, Newcastle, September 15 2012 – January 20 2013), Sense of Place, European Landscape Photography (BOZAR, Brussels, 14 June – 15 September 2012), and Landscapes of Exploration, British art from Antarctica (Plymouth, February/March 2012; Cambridge, October/November 2013; Bournemouth, January/February 2015).
She is Professor in Photographic Culture, Faculty of Arts and Humanities, Plymouth University, UK, and co-convenes the research group for Land/Water and the Visual Arts. www.landwater-research.co.uk She is a visiting professor, Belfast School of Art, University of Ulster, and also an elected member of the Board of Directors, Society for Photographic Education.
Fri 1.4. Sampo auditorium  09.00 – 10.15  
Annika von Hausswolff: The Construction of a Breakdown
"For the last 25 years I have been occupied with photography. Starting out as a documentary-photographer-wannabe I have explored staged photography, photography as conceptual sculpture, recently ending up in the play of appropriation.
As long as we know of, mankind has been prone to represent reality. The desire to relocate the mental experience of the world, to project it outside the subject, seems to be our destiny. To substitute outer realms in order to understand it, change it, dominate it or simply inscribe ourselves into its order. To create meaning and structure.
What are the similarities and differences between analogue and digital technique on a functional, philosophical and psychoanalytical level? Perhaps it is obsolete to even speak about images today, should we instead use words as information, meaning or code?
Inspired by the work of Didier Anzieu, the french psychoanalyst who´s book The Skin Ego in my mind has a strong connection to photography, I will present some of my photographic projects and relate them to the notion of materiality."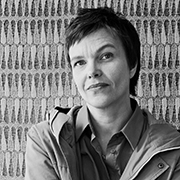 http://www.annikavonhausswolff.com
Annika von Hausswolff was educated at Akademin för fotografi at Konstfackskolan in Stockholm in the early ninities. She belongs to a generation of women photographers that problematised and elaborated the scene of visual art and photography in Sweden at the time. Working with staged photography, borrowing the semantics from various photographic genres such as documentary-, crime-, and commercial, she has exhibited extensively in the Nordic countries and abroad. For example at the biennials in Venice and Sao Paulo, Guggenheim Museum, Fotomuseum Winterthur, Magasin 3  Stockholm Konsthall amongst them all. For several years she was professor at Högskolan för Fotografi (now Akademin Valand) at Gothenburg University teaching students at master level. She is currently working toward solo exhibitions at Gallery Andréhn-Schiptjenko in Stockholm and Hasselblad Foundation in Gothenburg and will also be a guest professor at the University of Arts in Helsinki in the fall of 2015.
---
Twitter @Photomedia2016
#helsinkiphotomedia