Welcome to the Media Lab Doctoral Seminar (Christmas gathering)
TIME: Thursday December 13, 2018, from 16:30–19:30
LOCATION: Aalto University, Learning Centre, room JUHO.
DOM-L0007 New Media Doctoral Seminar
Responsible teacher: Prof. Lily Díaz-Kommonen
PRESENTATIONS BY:
Guest speaker: Priscilla Ferronato (Illinois Informatics Institute at the University of Illinois Urbana Champaign)
Massimo Menichinelli
See abstracts below.
The seminar is open for all in Aalto University. Welcome!
---
A transitory approach to post-human centered design: understanding the users' perception of trust in open and decentralized technologies
by Priscilla Ferronato
The development of technologies like AI and ML, the rise of new forms of human-computer interaction, and the consolidation of areas of study like STS and posthumanism theories have been supporting the disruption of traditional design approaches. Moreover, open and decentralized networks, in addition to data, can be used to better understand society as part of a complex socio-technical system. However, the understanding, anticipation, and design of the dynamics of socio-technical systems, require a perspective beyond human-centered design. By investigating the human perception of trust in open and decentralized technologies and the dynamics of the interaction between humans and non-humans actors, this research aims to explore a new post-human centered design methodology for designing, researching and communicating transparent intelligent systems based on decentralized networks where both non-human and human actors are active agents that base their work and interactions on trust.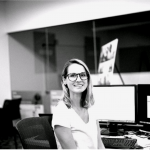 Priscilla Ferronato is a Ph.D. candidate in the Illinois Informatics Institute at the University of Illinois Urbana Champaign, holds a Master of Science in Strategic Design, and her research focus is on the intersection of technology, design, and society. She is a User Experience Research at Synchrony Financial, one of the biggest corporate credit card provider in the USA, where she has been working on the implementation of a customer experience research center for the development and adoption of emerging technologies. As part of her Ph.D. dissertation, she has been using a mixed method approach to understand the users' perception of trust in open and decentralized technologies, like blockchain and open governmental data.
---

A research through design approach for exploring meta-design tools and practice for the organizing of Open and Collaborative Design and Making processes.
by Massimo Menichinelli
The design research and practice have recently been investigating how to
have an active role in enabling collaborative and distributed systems
through the analysis, visualization and design of their collaborative
tools, platforms, processes and organizations. By adopting a meta-design
perspective, new possibilities have emerged for designers to be active
agents in the organization and management of collaborative and
distributed processes, especially design and making ones. How can be
collaborative design processes documented, analysed, managed, shared?
This research presents a research through design frameworks that
connects both practice and research, data formats and digital platforms,
researches and experiments for exploring the role and nature of
meta-design and meta-designers in facilitating collaborative design
processes starting from their description with digital ontologies.
Massimo Menichinelli: designer, has published several scientific
articles and books on the topics of Open Design, Makers and Fab Labs and
has lectured on Digital Fabrication and Open Design at Aalto University
(Helsinki, Finland) and Open Design at SUPSI (Lugano, Switzerland) and
in the Fab Academy (Opendot and WeMake, Italy). Massimo worked on the
development of the Aalto FabLab, the MUSE Fab Lab (Trento, Italy), the
Opendot makerspace/Fab Lab (Milan, Italy). He worked also as a Director
at Make In Italy Italian Fablab & Makers Foundation CDB where he
researched and facilitated Fab Labs and Makers in Italy. He works now as
a project manager for research projects at IAAC | Fab City Research Lab,
especially in the MAKE-IT and SISCODE Horizon 2020 European project and
as a coordinator of the Creative Europe platform programme Distributed
Design Market Platform and as project manager of Fablabs.io, the
official and open source platform for the global Fab Lab Network.