Welcome to the Media Lab Doctoral Seminar
TIME: Thursday October 26, from 16:00–19:00
LOCATION: Aalto University Harald Herlin Learning Centre, Otaniementie 9, Espoo (Otaniemi), 1st floor room 116 (Johanna meeting room).
DOM-L0003 Doctor of Arts at Media Lab Seminar
Responsible  teacher: Prof. Lily Díaz-Kommonen
Presentations by Jane Vita and Jihye Lee. See abstracts below.
---

Co-creating digital experiences for places
A multilayered and multidisciplinary view on designing for hybrid services, digital and physical, to empower experiences and build conversations in between people and places.
by Jane Vita
Abstract: Technology in the physical environment can be the elephant in the room when poorly implemented. To better understand how well technology fits into different physical environments, it is necessary not only to discover the right moment to bring digital to space and understand the customer's needs but also have the multidisciplinary experts involved in its concept creation; working together to achieve the desired goals.
This research aims to help professionals understand the role of technology in places and to give them tools that could meaningfully maximise technology's role. This study will focus on building a user-centered framework that utilizes concept layers as the groundwork.
The framework will have a significant focus on experience and technology. The layers will be a reproduction of what factors are essential to consider when designing hybrid services, combining physical and digital. The research will result in the production of a user-centered framework, a toolkit and utilization guide for designing better places for a hybrid environment.
To start experimenting, Jane has created the Service Sandbox method and toolkit, and together with few colleagues, she has applied the tool to the context of Smart Living. She has facilitated few workshops with professionals and in conferences around the world. More about Service Sandbox: http://www.servicesandbox.net
Jane Vita – Brazilian living in Finland – Service Design Lead at Digitalist and Ph.D. student at Aalto, New media, LeGroup.
Over the past 19 years, I've had the opportunity to gain experience in many of the design competencies, with projects in a range of different industries. At Digitalist I'm facilitating internal and external dialogue around the service design practice area. In client projects, my role is to act as a lead consultant helping customers to discover their digital future. These projects vary from extensive discovery to design sprints.
I conduct a Service Design in Digital Context course lectures in the Service Innovation and Design program at Laurea University. I'm also a Ph.D. student at Aalto University, together with Learning Environments Research Group I get involved in research, design, and development of New Media tools, as well as their use and application, in the field of learning.
Co-creation is an integral part of my work as service design. There are countless tools out there available to map experiences, describe paths and journeys, but what I needed was a tool to explore, play freely and in an open environment and the context of a place. I have experienced many design tools, and I even gave workshops at ISA14, Interaction 16 and Interaction 17 around the topic of Intelligent Spaces. However, together with few colleagues and as part of my research and with the client permission, I'm creating a Service Sandbox to prototype "smart experiences," along with different canvases to map and validate the value the services would bring for the customers.
More about Jane: http://www.janevita.com
---
Investigating User Experience(UX) Factors in Digital Heritage
by Jihye Lee
Abstract: Digital Heritage presented by augmented/virtual reality technology offers audiences entry to spaces that are difficult to access physically or in time such as the past. Since digital technology has emerged significantly, digital heritage realm seems blossom accordingly. However, a question that emerges is: when digital heritage experience is planned, what elements of user experience(UX) should be considered? The UX might be differently designed in accordance with the heritage's characteristics or its goal.
Investigating recent digital heritage works, the researcher will analyze them in a point of factors of user experience and argue that each different UX brings different effects for audiences. Conversely, different goal in designing digital heritage should have different UX approach. In this sense, the researcher attempts to categorize the works of digital heritage by its UX approach, and explore its characteristics in details. Throughout the analysis, further study and implementation can be expected for designers who build digital heritage experience to consider more precise and effective UX factors at the early stage of the design process.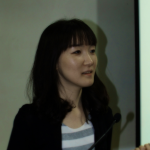 Jihye Lee is a visiting researcher at the Department of Media at Aalto University, and a recent PhD graduate in Film and Digital Media Design at the Hong Ik University, Seoul, South Korea. Her PhD thesis was about participatory process in mobile Augmented Reality with anthropological approach. She has worked in cultural institutions and colleges with interest in interactive storytelling and participatory design. Due to recent participation in digital heritage museum project in Korea, she has begun to focus on designing in digital heritage sector.