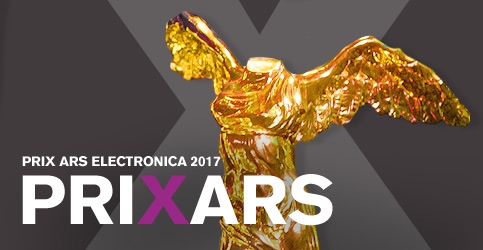 2017 Prix Ars Electronica
Entries for the world's most time-honored media arts competition are now being accepted!
Submit now!
The 2017 Prix Ars Electronica will honor excellence in the following categories: Animation/Film/VFX, Digital Musics & Sound Art, Hybrid Art and u19 – CREATE YOUR WORLD.
Winners receive the coveted Golden Nica statuette, prize money of up to €10,000 per category, and a prominent appearance at the Ars Electronica Festival in Linz (September 7-11, 2017).
Information about entering as well as nominating artistic projects is available at www.aec.at/prix! Submssion deadline is March 3, 2017. Participation is free of charge.
WANTED: Female Media Artists! Annually since 1987, the Prix Ars Electronica has issued a worldwide open call to men and women working in media art. But what about the percentages of female media artists who have submitted projects for prize consideration and been singled out for recognition? How have these ratios developed over the competition's 30-year history? And for that matter, how well have women been represented on Prix juries over this time? The Prix Ars Electronica staff has taken a close-up look at this situation. You can read about their findings in the latest our Ars Electronica Blog.
We look forward to your submission and wish you every success!
The Ars Electronica Staff