Feedback culture tip 2: Improve participation in end-of-course survey in MyCourses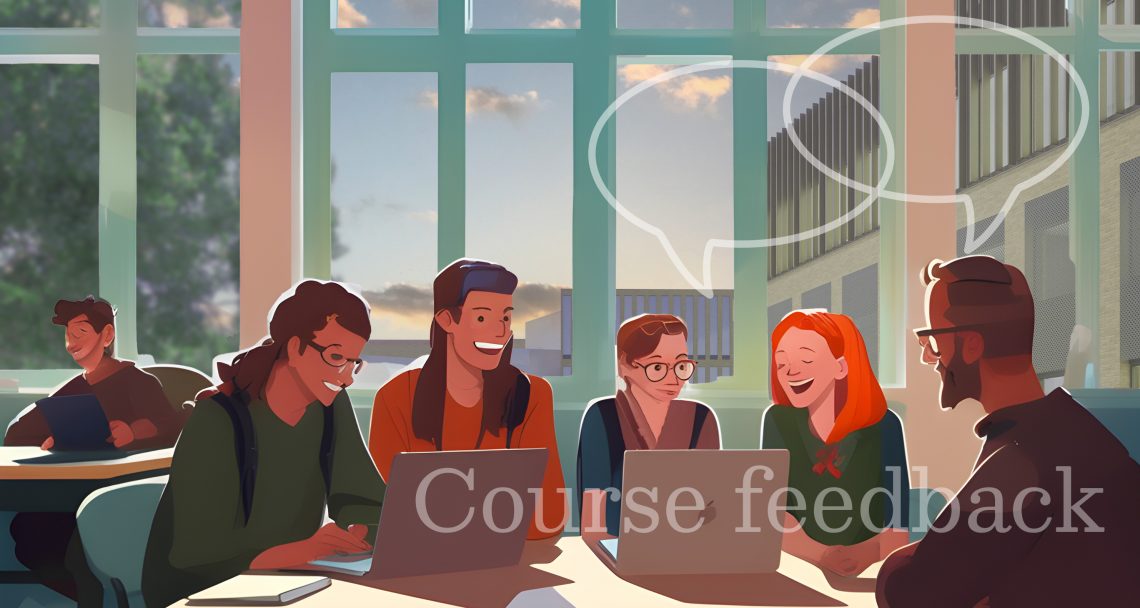 Have you considered how you can boost participation in the end-of-course survey among students? As a teacher, your role is vitally important in inspiring active engagement. By highlighting the significance of student feedback and its direct impact on shaping future courses, you can encourage more students to share their valuable insights. Let's dive into end-of-course feedback and explore effective strategies to enhance participation in it!
Hearing the voice of students is vital for the development of teaching and education. This is the reason why course feedback is collected systematically throughout Aalto University, reaching students in all phases of their studies. All in all, course development is seen as a continual process, occurring before, during, and after a course. In this short text, however, we focus on the end-of-course feedback – maybe the best-known form of course feedback.
At Aalto University, student feedback is automatically collected after each course via our newly launched course feedback tool in MyCourses. In addition to common questions (five Aalto questions and school-specific questions), you can add course-specific questions that help to develop the course. It is good to link the course-specific questions to the course objectives. Note, that with the new feedback tool, you can prepare end-of-course survey anytime in MyCourses (you will no longer receive a separate message reminding you to add your questions).
If you have ongoing courses, now is the time to add your course specific questions!
The feedback survey is automatically sent to the students registered in the course a week before the end of the course. The survey is active for two weeks by default, but you can extend the time if you wish. When a minimum of five students have answered, you can view the feedback report in MyCourses. Moreover, report summaries for the management are created twice a year.
Despite the automated feedback tool, you as a teacher, can substantially boost the feedback percentage with small measures:
1. Talk about feedback from the beginning by informing the students ​about the feedback practices on the course.​
2. Clearly explain the importance of feedback and how it contributes to enhancing the learning experience. You can showcase instances where student feedback led to positive changes, demonstrating the real impact of it. Additionally, encourage students to provide feedback on aspects that worked effectively, ensuring that these elements remain unchanged. It is not uncommon for feedback to be overlooked when there are no significant improvements needed.
3. Dedicate time for answering in class. To quote an Aalto teacher, "facilitating the feedback submission reduces the cognitive load for students".
4. You can reward students for giving feedback (the respondent list is available in the course feedback tool).
5. Send students additional reminders about completing the end-of-course feedback.
6. Respond to the feedback. By acknowledging their feedback, you not only demonstrate its value but also inspire students to engage actively in future participation. Read more about this in our upcoming Tip of the week on 11th December!
Despite these measures being small, they are very important. As a teacher, you have first-hand contact with the students, and they listen to you – so talk about the importance of course feedback!
This blog post is part of Teacher Services' ongoing series Feedback culture tips. At Aalto University, course feedback holds a distinctive place within our feedback portfolio, reaching students at every stage of their studies. We firmly believe in the importance of amplifying students' voices, considering it a fundamental aspect of teaching and education development. Consequently, course feedback is seamlessly integrated into our educational landscape, constituting a consistent element from the course's inception, throughout its duration, and up to its conclusion. Read more: Course feedback in Aalto University | Aalto University.