MyCourses' Calendar updates and fixes
The MyCourses' Calendar displays not only information about the activities on your MyCourses' pages, such as assignment deadlines, but it also shows all course events as described on Sisu. Responding to improvement requests, the MyCourses' Calendar has been updated for improved clarity and to better reflect event changes made on Sisu and on Asio.
The main changes are:
Deleted events on Sisu are automatically removed from the MyCourses Calendar.

Earlier, events deleted from Sisu had to be deleted manually from MyCourses Calendar


When updating course event details on Asio, the integration system will no longer create duplicated events on MyCourses Calendar.

Earlier, updating a course event ,e .g. changing a lecture time, would create a duplicated event on MyCourses calendar, as the former event was not deleted by the integration system.


Now, it is possible to add events without location details.

Earlier, events created without a location would not be transferred to MyCourses Calendar.


Cancelled events on Sisu are now clearly labelled on MyCourses Calendar with label CANCELLED, as illustrated below: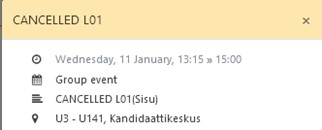 Note that changes made on Asio or on Sisu are only visible on MyCourses's Calendar the day after, as the integration system transfers new information overnight.