Tools and techniques for presenting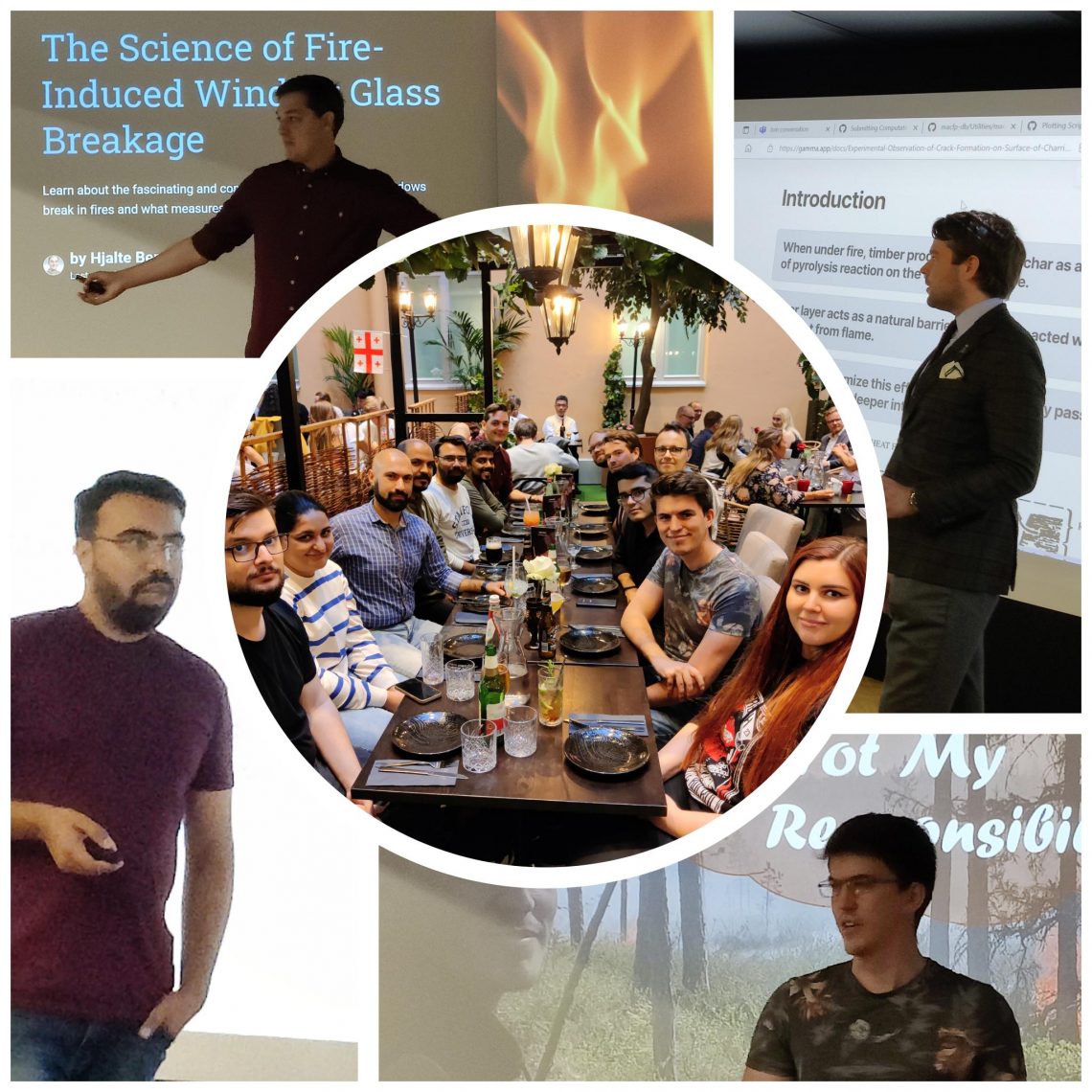 Aim
The aim of the workshop is to enhance our skills in scientific presentations within
fire safety community.
Schedule
Thursday, Aug 31
09:00 – 10:00
Welcome and introduction.
Research presentation good practices
10:00 – 10:50
Digital storytelling – Luka Piškorec
11:00 – 12:15

Visit

: Eurofins fire lab
12:30 – 13:15
Lunch
13:30 – 14:00
Small groups
14:00 – 15:00
Storytelling in Fire Science Show – Wojciech Węgrzyński
15:00 – 16:00
Student presentation (Iancu & Dragoi)
Small groups
16:00 – 16:45
Programming your presentation – Bryan Klein, Thunderhead Engineering.
19:00
Dinner in Helsinki
Friday, Sep 1
09:00 – 09:30
AI-tools for research presentations
09:30 – 10:15
Student presentations + discussion
10:15 – 10:45

Visit

: Aalto fire lab
11:00 – 12:00

Visit

: VTT test hall
12:30 – 13:15
Lunch
13:30 – 16:00
Student presentations + discussion
16:00
Close and goodbye
Tentative schedule. Coffee/Tea breaks will be included.
---
ToDo before the workshop: Test a presentation idea
Each participant will prepare a short (max 10 min) presentation of his/her research. In addition to present and discuss our research, the aim is to try some new visual/presentation technique, that you have not had opportunity to try before.
Pick one idea
Prepare a 10-min presentation of your own research project using this new idea.
Show the idea in small group (Thursday), discuss, improve.
Give a presentation in Friday.
Get feedback
Learn from others
In Thursday, we will split up in small groups to share and improve our ideas. Friday
List of possible things you can test
Using AI-tools for presentation drafting, for example https://gamma.app/
How to prepare 3D graphics or visualization, of e.g. experimental setup? Demonstrate some modelling tool, like
How to create a short animation of your research procedure?

Use Matlab (or similar) for animated graphs
Exploit PowerPoint features you haven't tried before.

How to include VR / AR?
Pitch tips: https://www.entrepreneur.com/growing-a-business/10-presentation-trends-to-help-your-next-pitch/450177
---
Travel instructions
Funding
Each participant makes the travel arrangements themselves according to the rules of their university / research institute. After the trip, make a travel claim to your university /research institute. They will charge NFSN.
Venue
Aalto University campus is located in Espoo. It is about 15 min metro drive from Helsinki center. Venue is Civil engineering department.
Address: Rakentajanaukio 4, Espoo
Room: R3, second floor
How to arrive?
Fly to Helsinki Airport (HEL)
Take a train to Helsinki central railway station.
Take a metro towards Tapiola or Kivenlahti.
Walk to Rakentajanaukio 4
Local transportation
Operator is HSL. Tickets can be bought with HSL app. Tickets are priced by regions. From Helsinki center to Aalto is two-zone ticket (AB). From airport to the university, you need ABC-ticket.
Hotels
It is best to arrive Wed 30th Aug.
Radisson Blu Espoo On the campus
Hotel Mats Matinkylä, Espoo. 4 metro stops.
**** Any hotel in Helsinki centre.
Help
Soroush Rashidzadeh, +358 50 473 0474, soroush.rashidzadeh@aalto.fi
Simo Hostikka, +358 50 447 1582, simo.hostikka@aalto.fi


Posted by Simo Hostikka