The main program for the conference will take place on the Aalto University campus in Otaniemi, Espoo, easily accessible from Helsinki city centre via Metro (15 minutes).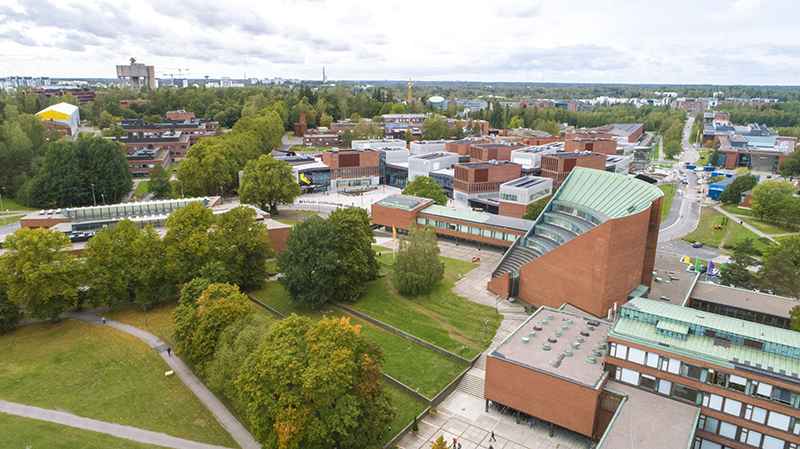 The campus includes historical buildings designed by Alvar Aalto, including the 'Undergraduate Centre' and 'Learning Centre', historical landmarks that have been recently renovated, and the new premises of Aalto School of Arts, Design and Architecture, Väre.
Also check this map to explore the campus: http://usefulaaltomap.fi or hop on a virtual tour and discover the campus here: https://virtualtour.aalto.fi/
How to Get to Aalto University's Otaniemi Campus
Accommodation
A quota of rooms for BrainSTIM partcipants has been booked at Radisson Blu Hotel Espoo and  Sokos Hotel Presidentti on June 1–4. Early booking is recommended as Helsinki is a popular conference and tourist destination in June!
The allotment will be released after May 3, 2022.
Radisson Blu Hotel Espoo
Otaranta 2, FIN- 02150 Espoo
t. +358 20 1234 705

Standard single room 132 EUR/night
Standard double room 142 EUR/night
Original Sokos Hotel Presidentti
Eteläinen Rautatiekatu 4, 00100 Helsinki
t. +358 20 1234 608
Standard single room 145 EUR/night
Standard double room 155 EUR/night
Rates include breakfast buffet, Wi-Fi, VAT and guest sauna.
RESERVATIONS directly to the hotels by phone, email or online – remember to mention the booking code BrainSTIM2023 upon reservation!
Sokos Hotels Sales services
Phone: +358 300 870 000 / individual room bookings
email: sokos.hotels@sok.fi
Online: https://www.sokoshotels.fi/en
Original Sokos Hotel Presidentti reservations available online as well: www.sokoshotels.fi/en – Reservation code BBrainSTIM2023
Guarantee & Payment
All reservations are to be guaranteed by credit card upon booking. An individual booking from allotment can be canceled by 6 p.m local time. on the day of arrival, unless otherwise agreed. We primarily recommend making a reservation by phone or email. Kindly note that due to security reasons credit card details should not be sent via email. Guests pay individually, method of payment: cash or credit card.
Alternatively
Sokos Hotels Heymo 1, Espoo offer affordable rooms approx. 10 minutes walk from the venue: https://www.sokoshotels.fi/en/espoo/heymo-1
Töölö Towers, Pohjoinen Hesperiankatu 23 A, offers economy apartments and rooms including breakfast starting from 85 e / single room /night.
Book here Töölö Towers – Unihome – use the code UNI23 and receive -10 % discount.
Good Airbnb homes are available in Helsink and Espoo.
Helsinki
If you wish to see some sights and experience Helsinki, the capitol city of Finland, then accommodation in the city center is recommended. Travel to the conference area at the Aalto University campus in Otaniemi, Espoo is convenient with the metro, so you may want to look at hotels close to metro stations.
Get tips and inspiration here! https://www.myhelsinki.fi/fi/your-local-guide-to-helsinki
A map with all of the metro stations/entrances can be found here: https://www.google.com/maps/search/helsinki+espoo+metro/@60.1836723,24.824494,12.54z?hl=en