Welcome reception on July 10, 2024
Time & place TBA.
---

Cruise & Conferernce Dinner on July 11, 2024
Swedish-Finnish Cultural Centre Hanaholmen, Hanaholmsstranden 5

After the second conference day we will take you out for a tour at sea! A private boat will cruise along the shore and offer a small treat of seaside Espoo. We will pass the nearby Keilaniemi business park – a hub of high tech, innovations and business life, as well as the beautiful Espoo archipelago.
Unplugged from the buzz of the city ,our elegant, yet charming Swedish-Finnish Cultural Centre Hanaholmen is welcoming us. It is located on its own island on the border between Espoo and Helsinki, about 4 km from the Aalto University campus and conference venue. venue. Its Restaurant PLATS will serve us locally sourced, organic Finnish delicacies with hand picked wines!
You will get a feel of the Nordic White Nights as midsummer has been celebrated only a couple of weeks earlier!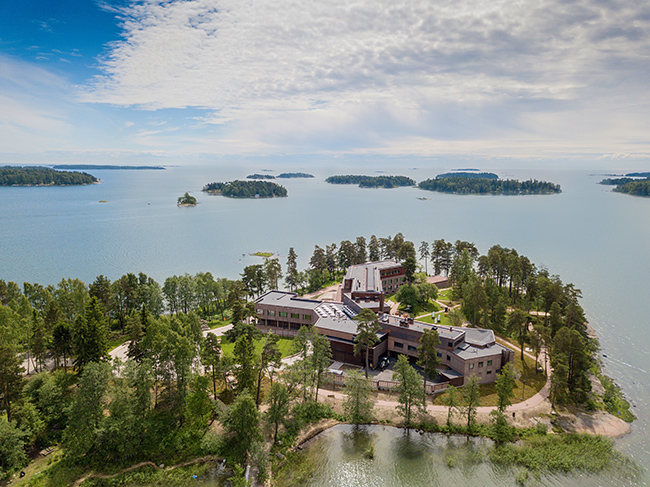 The mission of Hanaholmen is to convey the benefits of Finnish–Swedish cooperation and to strengthen the Finns' belonging to the Nordic family. Echoing the conference theme, the values and mission of Hanaholmen are peace, security and inclusion; culture, knowledge and education; sustainable welfare. The attracting building features many Nordic design details.
How to Get to Hanaholmen
Our private water bus will leave at 18:30 (TBC) from the pier Otaranta (outside Hotel Radisson Espoo). The tour will take approximately 30 minutes. You can reach also Hanaholmen by public transport (Metro: Koivusaari station-2 stops from the Aalto University station).