Welcome to the Media Lab Doctoral Seminar
Thursday May 11th from 17:00–19:00,
room 426, Miestentie 3 (Otaniemi), 4th floor.
DOM-L0003 Doctor of Arts at Media Lab Seminar
Responsible teacher: Prof. Lily Díaz-Kommonen
Guest lecture by Nina Czegledy, artist, curator, educator (CAN)
Presentation by Andrea Mancianti, opponent Archontis Politis
The seminar session is open for everyone interested in Aalto University.
Welcome!
See abstracts below.
---
Nina Czegledy:
Art as a Catalyst
One might re-consider the traditional interpretation of the term "Catalyst" in relation to Art and Science collaborations, especially as the term "catalyst" was originally used in chemistry for the volatile chemical element in a formula. According to a contemporary definition: catalyst means a person or thing that precipitates an event or change. Catalyst has however different functions in diverse situations – do art & science projects have the essential explosive chemical components to incite change? How is art, how is science and how is technology changing in this process? Are there any rules? How do we approach cultural differences? How can we define the underlying artistic, social and political motivations? What are the ethical concerns of collaboration between scientists and artists? This presentation is based on my own working practice on the intersection of art science and technology, mainly on the changing perceptions of the human body and its environment including a variety of social issues. In all the projects we focus on cross-cultural, inter disciplinary and inter generational matters.
Nina Czegledy, artist, curator, educator, collaborates internationally on art & science & technology projects. The changing perception of the human body and its environment as well as the paradigm shifts in the arts informs her collaborative projects.  She has exhibited and published widely, won awards for her artwork and has initiated, researched, lead and participated in forums and symposia worldwide. Czegledy is an Adjunct Professor, Ontario College of Art and Design University, Toronto,  Senior Fellow, KMDI, University of Toronto,  Research Fellow, Semaphore Research Cluster, University of Toronto, Research Collaborator Hexagram International Network for Research Creation, Montreal, Senior Fellow, Intermedia, Hungarian University of Fine Arts, Budapest. She is a Member of the Governing Board Leonardo/ISAST, Board Member AICA International Association of Art Critics Canada and Chair, Intercreate org New Zealand.
---
Andrea Mancianti:
Ecosystem and experience: composing and orchestrating for mixed reality immersive environments
The context of the present research is an intersection of live visual music, off-stage performance art and augmented/virtual reality. Its aim is to develop, through different artistic case-studies of increasing complexity, strategies to compose and orchestrate immersive, explorable, reactive, audio- visual ecosystems, where the audience is engaged in following autonomous trajectories within the experience. The case studies, ranging from small scale sketches to larger artistic productions, revolve around the exploration of three main continuums, with a particular interest for hybrid solutions and attention to the different degrees of participation user-spectator-participant-performer- composer:
• the axis ranging from game-like to performative pieces.
the reality-virtuality continuum, from real-world to augmented to fully virtual media.
• the axis from solitary to social modes of participation.
The research will be conducted within the practice-based artistic research methodology framework, where reflection and artistic practice are conceived as two aspects of the same activity, involving continuous reciprocal interference. Each project will be carried-on through trans-disciplinary workgroups with technologists and artists from different fields, alternating practical work and open discussions. This process will generate a "toolkit" that includes compositional methods, technical and technological solutions, software and hardware tools, to address the many challenges presented by the relatively new context. Each case-study will offer a specific test bench to verify in practice the aptness of artistic strategies and tools.
This research comes at a crucial moment in VR history, as for the first time there is a global effort into making affordable devices, particularly conceived for mobile VR, making this technology accessible for a much broader audience. Moreover, the artistic evaluation of novel software applications, could help shift the focus of these technologies from purely entertainment to experimental artistic applications, creating a platform keeping together technology enterprises' investments, artistic creativity and critical thinking.
The research's artistic outcomes will be presented to the community in the form of explorative, mixed-reality experiences. At the end of each case study, interviews, questionnaires and discussions with the participants in different roles, will gather feedback and comments on the experience, complementing the documentation coming from audio-video recordings, pictures and sketches. Ecosystem and experience will be the guiding metaphors suggested to enquire the relational nature of these events, where their participants, the spaces they dwell and the technology they involve, will all be taken into account within a holistic compositional approach.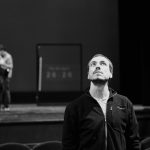 Andrea Mancianti is a composer, performer and media artist devoted to work with the hybridisation of sound, movement and space and digital tools. He holds an MA in composition and music technology (2012, Conservatory of Florence) and a BA in Philosophy (2006, La Sapienza, Rome). He also participated to the IRCAM's Cursus 1 in Paris (2013-2014). Currently he is a PhD candidate in the department of Media, in the school of Arts, Architecture and Design of Aalto University of Helsinki.
With his work, that include music compositions, installations and mixed media performances, he seeks to investigate compositional and performative aspects of interconnected audiovisual ecosystems, where real-word phenomena extend in the virtual digital world and complex feedback networks are established between the two realm. With media artist Roberto Pugliese is a founding member of quietSpeaker studio, a duo creating audiovisual performances and interactive installations.
His works have been performed in Europe and Usa, for institutions such as Ircam (Paris), Biennale Musica (Venice), Impuls and KUG (Graz), Muziekcentrum De Bijloke (Ghent), Centre Henri Pousseur (Liege), STUK (Leuven), Boston University (Boston), Nuova Consonanza (Roma), Sibelius Academy (Helsinki) and others.