Professor Sammye Johnson Teaches Magazine Journalism in School of Art and Design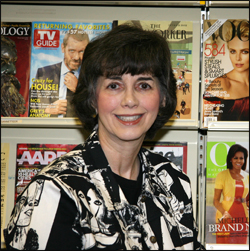 Department of Media welcomes Professor Sammye Johnson, who will spend the Fall 2011 semester in School of Art and Design. She has received a Fulbright Award from the United States Department of State's Bureau of Educational and Cultural Affairs.
Professor Johnson will be teaching a graduate course based on her book, The Magazine from Cover to Cover. She will also work with graduate students to develop professional magazine projects and research dissertations focusing on magazine theories, methods, and applications.
Professor Johnson will collaborate with Maija Töyry, professor of magazine journalism in the media department at Aalto University School of Art and Design on a project titled "Audience Construction in International Magazines."
Sammye Johnson is a professor in the Department of Communication at Trinity University in San Antonio, Texas, where she holds the Carlos Augustus de Lozano Chair in Journalism. Prior to joining the faculty at Trinity, Johnson was an award-winning magazine editor and writer for more than a decade. She continues to freelance; since 1985 she has published more than 350 articles in a variety of magazines and newspapers and received 19 writing awards. Johnson's research focuses on magazine content and history, particularly the depiction of women on the covers and editorial pages of such magazines as Time, Cosmopolitan, Maxim, Sassy, Glamour, and Vogue. Her work has been published in the top refereed journals in the journalism and mass communication field, including Journalism & Mass Communication Quarterly, Journalism & Mass Communication Educator, Journal of Magazine and New Media Research, and Journalism Studies. She has contributed 14 chapters to books about magazine publishing and presented more than 50 refereed research presentations at national and international conferences. (Source: Trinity University)